The charm of the old continent is undeniable; it almost calls us to visit it and spend copious amounts of money touring its many beautiful countries. Whether you like the appeal of the Mediterranean sea, want to live out your backpacking fantasy, or intend to have an extraordinary bragging story for the rest of your life, Europe is the way to go. Besides the culture, food, and festivals, luxury is what Europe does best. From many Michelin star restaurants to shopping galore and unique private experiences, seek out your adventure in this glorious part of the world. Let's check out some of the most incredible places you ought to visit.
Monaco – Sail with the rich
Does it get more luxurious than partying on a superyacht? You be the judge of that, but we are pretty sure it checks all the boxes. Every year Monaco welcomes yacht enthusiasts, best in the business, of course, admirers, tourists, and VIPs who attend the international Monaco Yacht Show. You can just admire them from the side or rent one for your pleasure. With a price tag that starts at around $2.000, this unique delight takes you on a scenic ride up and down the French Riviera as you indulge in the luxury of onboard service and amenities. If Leo loves it, you will too.

Finnish Lapland – First class views of the northern lights
Vacation in the Arctic circle may not be everyone's cup of tea; we get it. But, we still
think you should give it a chance, especially when northern lights take over the skies during the
late summer and winter. Staying in a luxury ice dome igloo, in which you'll feel comfy and
warm while gazing at the uniquely colored night sky sounds like a dream, doesn't it? The best
views are from the Kakslauttanen Arctic Resort, where you can find igloos for up to 8 people.
They even come with a private sauna!
Switzerland – Skiing in the winter wonderland
The whole country looks like something straight out of a fantasy novel, with gorgeous lakes, snow-covered mountains, and ridiculously green pastures. No matter the season, Switzerland is the answer to many travel questions, but the real magic happens during the winter months. Some of the most exclusive ski resorts in the world call Switzerland their home, with long interconnected paths suited for skiers of all skillsets. Besides immaculate snow, great equipment for renting, and top-notch cableways, you'll find cozy cabins and great restaurants. Zermatt ski resort is considered the best, with over 2.100 meters high drops. If you're a fan of nordic skiing, we recommend St.Moritz, or you could head out to one of the Davos-Klosters resorts to show off your off-piste skiing skills. Don't forget travel insurance!

Rome – Private tours for days
The eternal city on its own is a work of art, with archeological sites scattered all over the city and important historical and artistic landmarks incorporated into everyday life. Yes, you can get yourself a table at a fancy restaurant and eat the most fantastic pasta dishes, but Rome is the best place in the world for private and exclusive tours. Want to have a one-of-a-kind experience and witness all the wonders of the Colosseum without the noisy crowds and long lines? Get yourself skip-the-line tickets and a private tour of the Gladiator entrance! We recommend you also head out to the Vatican for an after-hours tour of the most intriguing museums and galleries in the world.

Paris – Michelin star heaven
Are we even surprised that the first Bloody Mary was invented in Paris? Everything about this town screams luxury, even when it's not that expensive. We're talking about a city that is home to the world's largest art museum and the second busiest underground network system that works like a charm. Paris is where you can be dazzled by Moulin Rogue dancers while eating the most fantastic food for almost $600 and make a one-of-a-kind perfume in an engraved bottle. But, you should consider treating yourself to a table at the 3-star Michelin restaurant. There are 10 to choose from in the city of light, where you can expect immaculate service and delicate meals with names you maybe won't be able to pronounce. If you have a fancy palate, Paris is the place for you.

London – Feel like royalty
The world's financial capital and home to many Harry Potter attractions should be of high priority when you're looking for a luxury spot. Walking around the Royal HQs is fun and eventful on its own, but driving around them in a rented Rolls Royce is the way to go. Having a driver on call at all times creates a lot of opportunities to live out your fancy fantasies, and you should be doing it while smelling of none other than Clive Christian's Imperial Majesty. From booking your haircut appointments with a celebrity stylist to champagne tastings in a private capsule on the London eye, this British gem deserves all the love. We mustn't forget the afternoon tea at the Ritz!
Barcelona – Sippin on luxurious wine
Is there anything better than a good glass of wine and people watching on your trip abroad? If that wine comes from any vineyard in Catalonia, you've hit the jackpot. Barcelona was Anthony Gaudi's playground, which means you'll also get to enjoy architectural wonders on your way to the best local taverns. The pairing made in heaven is a bottle of Priorat wine that you can buy as a unique souvenir for around $100 and the most delicious Jamon Iberico. This ham is the most expensive globally, and for a good reason. To learn more about Barcelona's specific wines and find inspiration to look for other luxurious spots, check out this excellent Luxury vacation blog.

Amsterdam – Irresistible charm of unique hotels
Sleeping in a Windmill just outside one of the coolest cities in Europe? We don't have to say much else, but we will. These iconic symbols of Dutch culture scattered all around the outskirts of Amsterdam now serve as unique hotels; they can cost around $400 a night. They are a great combination of modern interiors and rustic vibes, which is an experience on its own. Alas, if you want to wake up with a view of the canals, book your room at the world-famous Pulitzer Hotel is also known for its stylish bar. Its most prominent opponent is the Waldorf Astoria, which houses a 2-star Michelin restaurant. The Dutch sure know what hedonism is all about.

Edinburgh – Spooky with style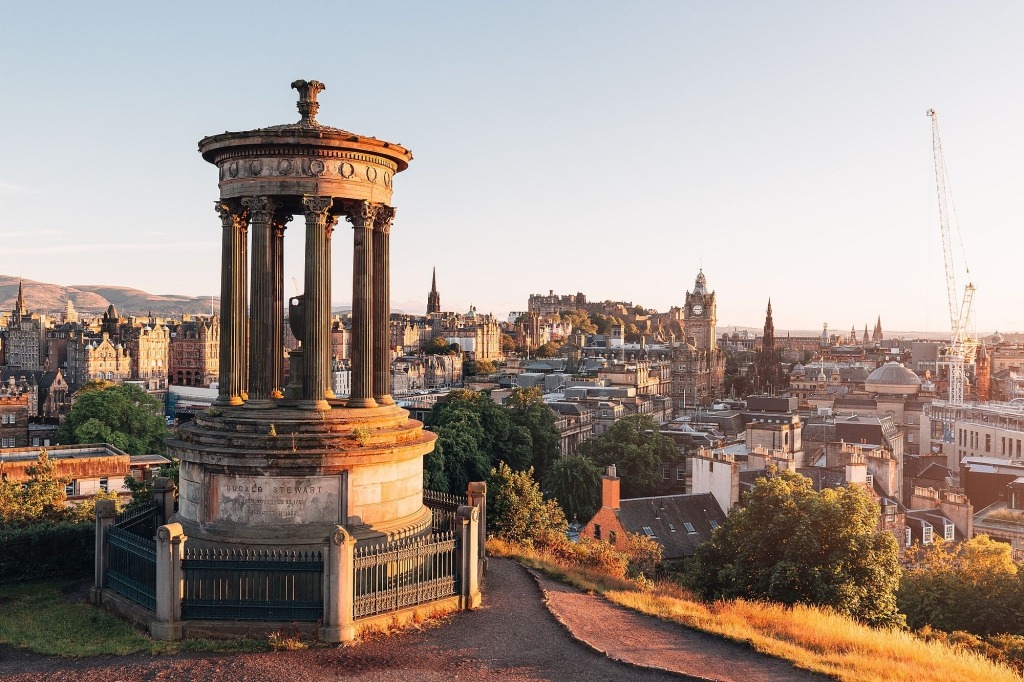 Do you believe in ghosts? Whatever your answer is, we are sure you enjoy getting spooked from time to time. A better way to do it than a popcorn movie is a private and exciting tour of an allegedly haunted town that is Edinburgh. A walking tour with a passionate guide is the best gift you can give yourself, and if you add some scotch tastings to it, you'll have the best time of your life. The tours sell out quickly, especially the ones that take you on a wild ride that is Old town's dark history. A private viewing of the underground passageways underneath the Royal Mile will bring you such a mix of emotions. Indulge in Scottish legend and myths, take a trip to Doune Castle, and experience Edinburgh at night for a magical vacation.
Iceland – Lavish frozen nature
You can find exciting adventures all over Iceland, from glacier exploring to whale watching. Did you know that you can be on two continents simultaneously? Istanbul may come to mind first, but Icelandic hot springs indeed can compete. Dive down the hot clear water to touch the Euroasia tectonic plates after you've undoubtedly rejuvenated your mind and skin, head to glacier climbing and ice cave exploration tours to test your body's limits. These tours can be challenging, but so worth it! To finish your vacation in Iceland in style, book yourself a cruise that takes you one step closer to the majestic whales of the north. If you still haven't figured out your next luxury destination, we get you. All of these cities sound amazing! We leave you here to daydream about your perfect European vacation. Just remember to treat yourself; you deserve it.
Cover photo: Benjamin Gremler – Barcelona – q_TzfAt4NQ8 – unsplash